Many small employers are rapidly approaching their auto enrolment staging date, and feel overwhelmed by their responsibilities as an employer.
The big question is:
'How do I choose a pension provider without paying a pension advisor a small fortune?'
To begin to answer this question I've looked at the websites of 3 of the main pension providers, Nest, NOW: and The People's Pension. I've tried to imagine how an employer might feel navigating their websites.
I'm looking at how easy it is to find what you want, how to contact them, what information they offer and in what format. There is also a comparison of scheme features, costs and investment strategy.
Whilst the information in these blogs is not comprehensive or a replacement for professional advice, I have tried to level the playing field by comparing certain features of the schemes and the approach of each provider directly to avoid you having to do the leg work.
The costs of pension schemes have been compared and any costs stated were correct at 14/01/2016.
Where possible I have added links to useful documents and video so that you can access information directly rather than working through the maze of the website.
PLEASE NOTE: I am not a IFA and the opinions within these blogs are my own. I'm not affiliated or financially induced by any pension provider.
Initial Feeling about the nest pensions website
You are greeted by a very simply designed home page. It's asks whether you have received either a letter from The Pension Regulator or your Welcome Pack from Nest. Scrolling down the home page highlights some of the features of Nest such as being 'Online and Easy to Use', 'Built Specifically for Auto Enrolment' and being 'Great Value'.
At the bottom of the page are a lot of links taking you to various sections, and are grouped into logical headings.
I particularly like that there is a link to 'Nest Charges' and their 'Investment Approach' on the top left of the screen. From discussions with clients and employers these are the two topics that come up again and again, and I like the transparency offered by Nest.
Other Features:
Change of screen text size to make the website easier to read
Available in Welsh
Log in button easy to find top right of home page
Who Are Nest?
Nest are the Pension Provider that's been set up by the government to provide a pension scheme that meets the requirements of the Pension Regulator. This is available to all employers, regardless of size of company or number of employees.
 Using the Website as an Employer
Clicking on the 'What Employers Need to Do' tab at the top of the screen takes you options of either 'Getting Ready for Auto Enrolment' or 'Setting up Your Scheme'.
Getting Ready for Auto Enrolment
Here you are given their 6 key steps to prepare which contains lots of links, from finding out if a current pension scheme will meet the Pension Regulator requirements and getting your staging date, to avoiding late payment of contributions and a file upload compatibility test.
Setting Up Your Scheme
Initially there are five questions to answer. This is a great starting point for beginning the auto enrolment process. Staging date, who to enrol, contributions, information needed and management of the scheme all come with a link to a helpful document or online support to help the employer complete that part of the process. I am really impressed that Nest give a PDF that shows you everything you'll either needed to have decided on, or information that you need to gather to complete the set-up process.
Charges and Costs
Employer – The employer isn't charged a set-up or ongoing fee by Nest at this stage
Employee – Using the average UK salary, the employee charges are under half of that of NOW: but significantly more than The People's Pension.
The table below can help with making direct comparisons between the three providers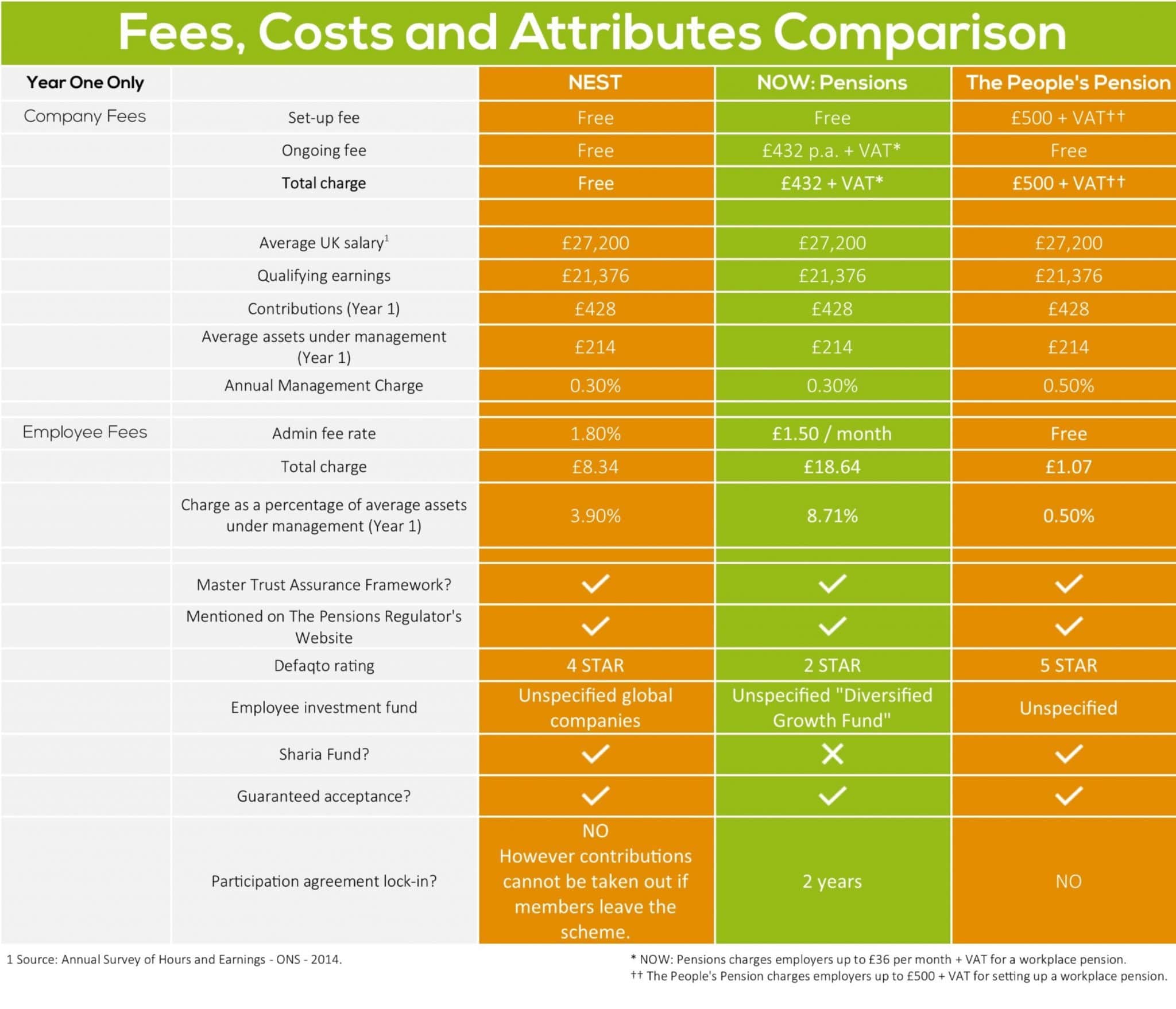 Investment Approach
Nest spread their funds over diverse investments from around the world using funds from leading fund managers, including Amundi, BlackRock, BMO, HSBC, Legal & General Investment Managers, State Street Global Advisors, Northern Trust and UBS. They also believe in responsible and sustainable investment and so consider how the how the companies and economies they invest in are run and impact on people and the planet. Their investment decisions are based on evidence, research and analysis, and consider what their members need and expect. They aim to be transparent and report on how they're doing through their fund factsheet and voting reports
Final Thoughts
The irony of writing this blog over several days and a weekend is that the home page for Nest (and other pages too) has changed over the weekend. The home page is now much nicer and well designed and stands up much more strongly to visual scrutiny against the other two providers. The site may still be available in Welsh but the link that was at the top right of the screen has now disappeared which is a disappointment, although the ability to increase the size of the text on the screen remains. Whilst the navigation and information remain the same there are new images throughout the site and more links are available. My initial thoughts when I came to write the 'Final Thoughts' section for Nest was to say that whilst for small employers they must appeal as they have no set up fees and no ongoing fees, the simplicity and lack of design, giving an amateurish feel might put off the newcomer if they've already been to NOW: or The People's Pension sites. However, that no longer applies. The fees and charges are clearly seen to be lower than the other two however the performance of the funds should be taken into account and independent advice taken to get a full and considered opinion.
Score out of 5   5 – Ideal for small employers as no large fees at the outset.
The pension providers are constantly updating their websites and the information held in this blog may not reflect the current position of their website.  Please send feedback to [email protected] if you find this to be the case.  Thank you.