Many small employers are rapidly approaching their auto enrolment staging date, and feel overwhelmed by their responsibilities as an employer. The big question is 'How do I choose a pension provider without paying a pension advisor a small fortune?'
To begin to answer this question I've looked at the websites of 3 of the main pension providers, Nest, NOW: and The People's Pension. I've tried to imagine how an employer might feel navigating their websites.
I'm looking at how easy it is to find what you want, how to contact them, what information they offer and in what format. There is also a comparison of scheme features, costs and investment strategy.
Whilst the information in these blogs is not comprehensive or a replacement for professional advice, I have tried to level the playing field by comparing certain features of the schemes and the approach of each provider directly to avoid you having to do the leg work.
The costs of pension schemes have been compared and any costs stated were correct at 14/01/2016.
Where possible I have added links to useful documents and video so that you can access information directly rather than working through the maze of the website.
PLEASE NOTE: I am not a IFA and the opinions within these blogs are my own. I'm not affiliated or financially induced by any pension provider.
Initial Feeling about the website
NOW: have a slightly more corporate feel to their website, but it's in no way intimidating or uninviting.
They simply ask who you are, giving a choice between 'Employer', 'Employee', 'Advisor' or 'Payroll Bureau'. The home page does not try to sell NOW: Pensions to you, it is focused entirely on taking you down the right route depending on why you're there. I like this approach, as I would imagine some sites can leave you feeling a little overwhelmed by where to start looking for what you need to know.
There are links to their products and Help Centre at the bottom of the screen.
This is the 'shortest' home screen of the three providers and for a newcomer to auto enrolment is probably the least off-putting.
Other Features:
Phone number is on the home page
Social Media links are on the bottom of the page.
Log in button and Help Centre top right of home page
Who are NOW:?
NOW: Pensions Ltd is a subsidiary of one of Europe's largest pension funds, Danish pension scheme ATP. In January 2015, they obtained Master Trust Assurance, designed by The Pensions Regulator (TPR) in conjunction with the Institute of Chartered Accountants in England and Wales (ICAEW), which independently means their scheme is managed to a high standard.
Using the Website as an Employer
Clicking on the 'Employer' link from the home page takes you to a cleanly laid out page. The first thing that you find at the top of the page is a 'Sign Up' button with a 'Login' link for existing clients. Should you want more information scrolling down gets you to 8 further choices.
'Why NOW: Pensions' tell you more about the company.
'How It Works' contains a video which introduces the file cycle using their gateway and is clear and simple to understand along with their three step process. There is a link to their 'Step by Step Guide to Auto Enrolment'  PDF which not only tells you what information to gather and what decisions need to be made, but also a clear guide to their 'Contribution Models' and 'Tax Relief'.  In recent days they have added a small contact form that has to be completed to get access to the document however the previous link will bypass that requirement and take you directly to the document.  Whilst 26 pages, this is an excellent document containing lots of clear information without being too NOW: centric.
There is a link to the 'Guide to Signing Up' which gives a guide to the information that you'll need to complete the process, along with gateway and support information.
'Find Out More About NOW: Pensions' takes you to a contact form. It doesn't tell you what will happen once the form is submitted but asks for a phone number and email address amongst other information so prepare to be contacted by NOW:
'Find Out Your Staging Date Here' takes you to a screen on which you enter your PAYE Reference. You will then be given your staging date.
'Contact Us to Start Your Application' asks you to fill in a contact form to request a call back.
'About Auto Enrolment' has a video that breaks Auto Enrolment down in to eight steps and is clear and simple. I would recommend any employer to watch this video as it covers worker types, opting in and out, and postponement. It is comprehensive and easy to understand.
There are also links to their Blog and Help Centre
Charges
Employer – Whilst now doesn't charge the employer a set-up fee at this stage their introduction of an monthly administration fee of up to £36.00 per month could be a factor to consider for small businesses and first time employers
Employee – The employee is charged a flat £1.50 admin fee meaning they have the advantage over some providers if contributions are larger.  The annual management charge is the same as Nest and less than charged by The People's Pension.
The table below can help with making direct comparisons between the three providers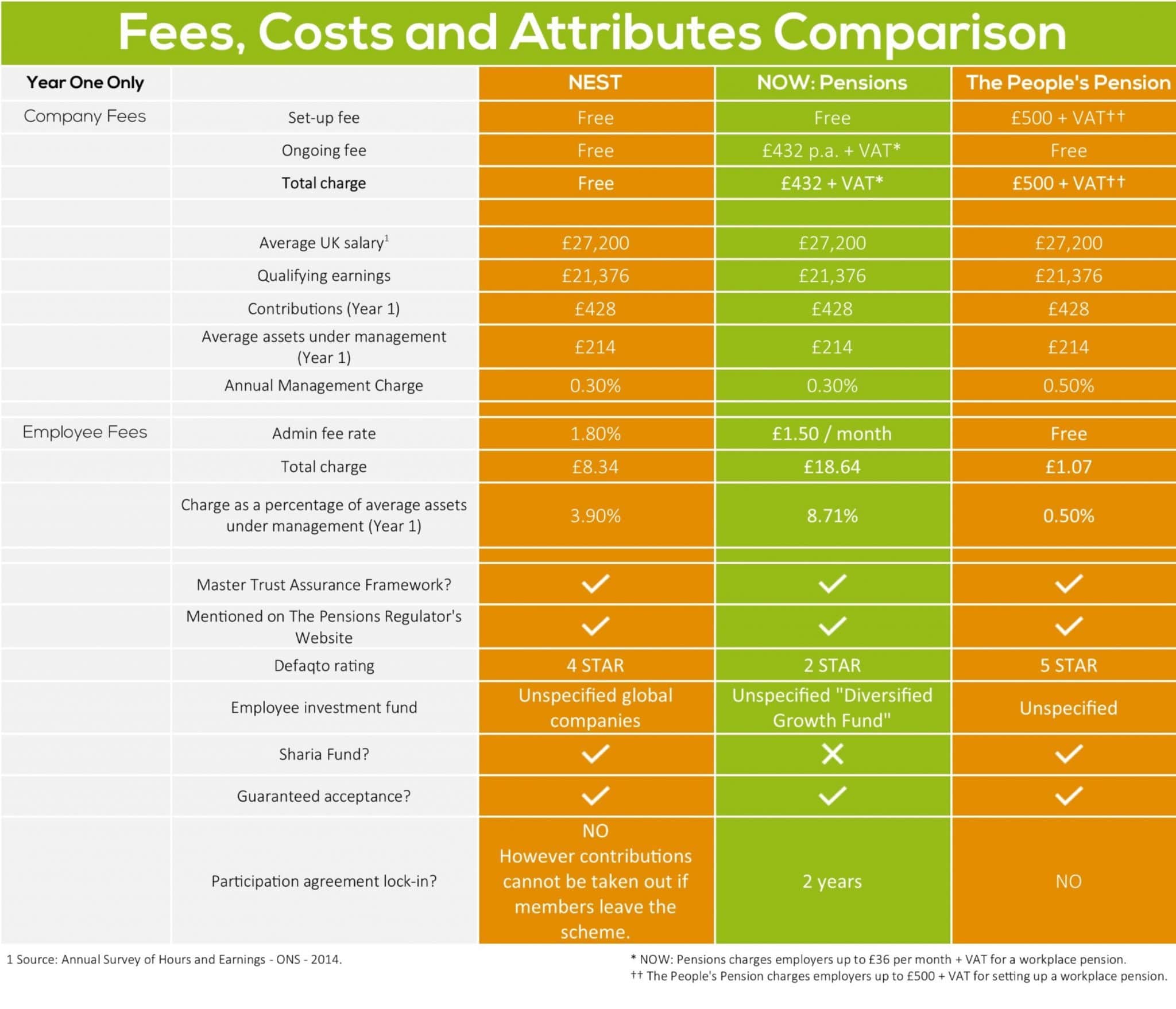 Investment Approach
During the growth phase, member's contributions are invested in the Diversified Growth Fund which actively adopts a risk managed approach. As retirement approaches, funds are gradually switched towards the Retirement Countdown Fund which is designed to reduce the overall risk exposure. They have a clear objective of providing an investment solution offering good value and secure outcomes for members. Their straightforward strategy of diversification of assets over the long term provides protection. NOW: do not ask members to make decisions about how their funds are invested, but have appointed the NOW: Pension Trustees Board. Their role is to take responsibility for the investment strategy giving reassurance with focus on long term savings needs of members.   Further details can be found within NOW:s Investment Strategy document and Statement of Investment Principals. They also make their Quarterly Fund Fact Sheet readily available.
Final Thoughts
From a visual perspective I like this website the most. I really like the fact that they look at who you are as a prospective client and your website experience is tailored to that. I like the simplicity. From a fees perspective whilst they don't charge a set-up fee their ongoing fee is the largest of the three providers, and with an employee admin fee of £1.50 per month the fees stack up quickly. However the performance of the funds should be taken into account and independent advice taken to get a full and considered opinion.
Score out of 5  3 – For a small employer with minimum-waged staff this may be an expensive option.
The pension providers are constantly updating their websites and the information held in this blog may not reflect the current position of their website.  Please send feedback to [email protected] if you find this to be the case.  Thank you.