I know it's probably means I'm certifiable, but I adore payroll.  I love numbers and the rules that apply to them. During my career I have reconciled bank's bank accounts, hundreds of thousands of pounds before their systems were automated. I have studied accountancy and love the logic of double entry and how the numbers flow through the ledgers.
Payroll Outsourcing is similar, with reconciliation of deductions and payments to HMRC, Pensions, Union Deductions, Benefit Schemes, and not forgetting the employee.   The logic is simple and pure, and the rules are clear and defined (most of the time!)
I don't consider it dull, I love the work and getting to know the clients and their businesses. I really enjoy watching them grow and develop, and love supporting that. And there's always lots of variety in the work with many different clients in different industries and professions.  My clients are small, thriving businesses and I love feeling like I'm an extension of their business, and a tiny cog in the machine that's helping them as they build their businesses and become successful.
And there's all the 'stuff' that goes on behind the scenes at PayrollAbility.  I've had to dive into the world of SEO, learn how to make video for the business and get over the fear of putting myself out there, which is still a work in progress. Building and maintaining the website, writing blogs and thinking of ways to engage with an audience that is potentially not that interested in what I do, though may well need it! There's something new all of the time, and I love it.
It goes without saying that I read a lot, to ensure I know about any changes to legislation and the industry, and there's 'continual professional development' which has to be done each year to make sure my knowledge is up to date.  So there's never a dull moment really and there's so much diversity I'm on the go all the time.
That's what keeps me happy
But the biggest motivator, is knowing that whatever happens, my clients people will be paid and there will be no problems with HMRC from a PAYE perspective.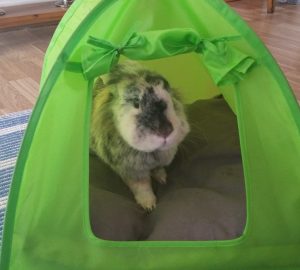 But just occasionally I do get away from my laptop, and there's lots of other things in life.  I have a house bunny named Carrie.  She was found abandoned in a flat in Birmingham locked in a pet carry box, and the name stuck.  She had behavioural problems when I first got her, and there was a fair amount of biting whilst she settled in.  That's been about 6 years ago now, and all the fear she felt when she first arrived has gone.  She is one of the sweetest and smartest bunnies I've had, and whilst still a handful I wouldn't have her any other way.
I'm also a dancer, so when not playing with my bunny or taking care of your payroll and your business, you'll find me on a dance floor at a West Coast Swing night somewhere in the country.